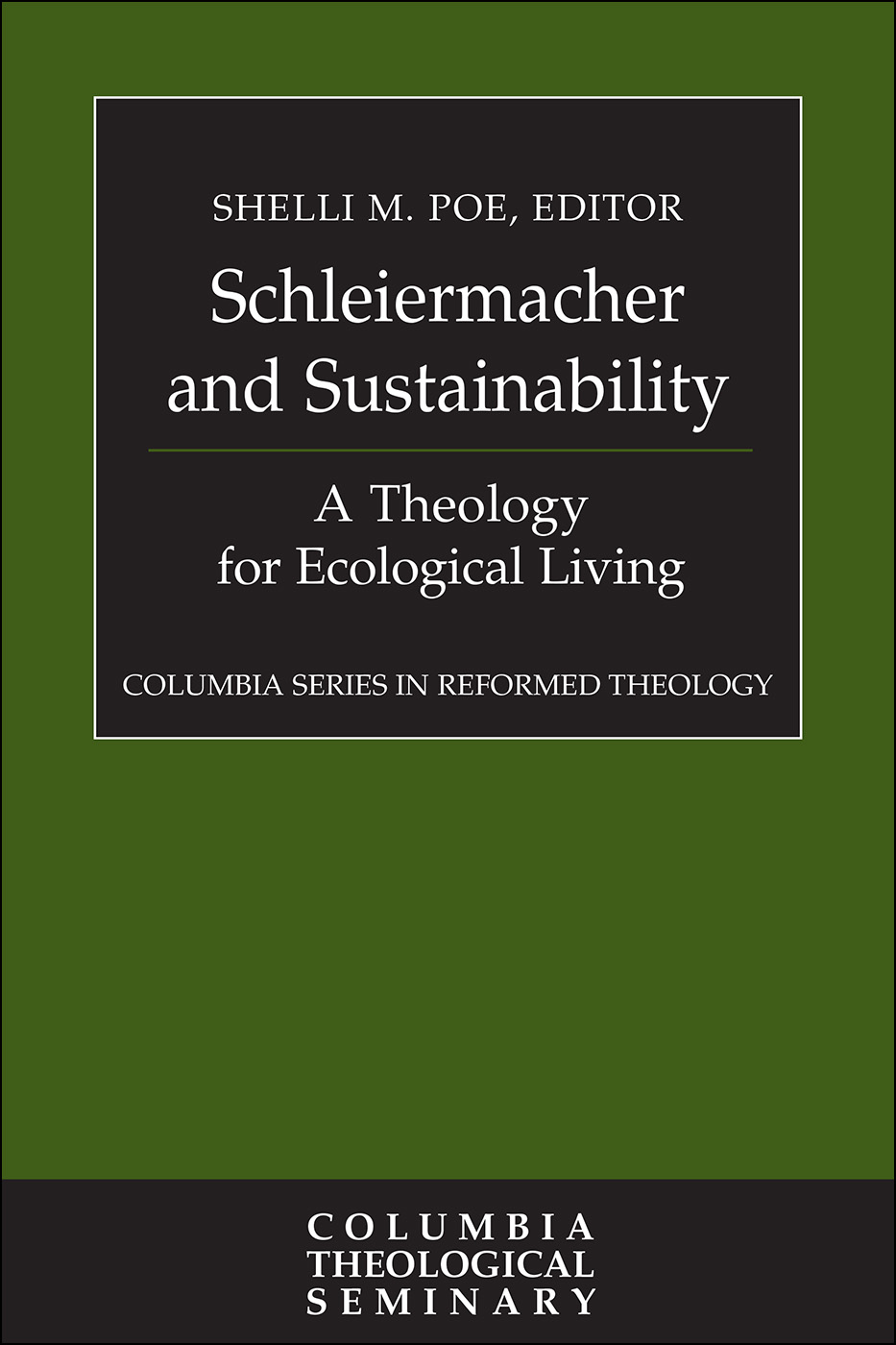 Book: Schleiermacher and Sustainability: A Theology for Ecological Living Edited by Shelli M. Poe [AMAZON LINK]
Publisher: Westminster John Knox Press, 2018. Columbia Theological Seminary: Columbia Series in Reformed Theology. [PUBLISHER'S LINK]
Overview: This book is a well-organized and timely collection of essays from a few of the leading voices in Schleiermacher-studies, including the veteran scholar Terrence Tice. As a study of Schleiermacher's theology, it is superb; and as a timely meditation on the fruitfulness of his theology in the context of the ecological crisis, it is vital.
———————————————————
Schleiermacher turned 250 this month (Nov. 21, 2018), but least anyone imagines his theology has ceased to be relevant for the modern era, this new volume, edited by Shelli Poe, proves that there is still so much we have to learn from him.
After a helpful introduction by Poe, the book begins with James Brandt's essay on the importance of Church and ethics in Schleiermacher's thought. Brandt has long been vocal about reviving interest in Schleiermacher's ethical theology, in contrast to the claim that he is ethically deficient. (See his excellent book, All Things New.) Brandt's essay continues that argument and places Schleiermacher in the context of the ecological crisis, thus setting the tone for the rest of the book.
The second chapter, by Shelli Poe, has three interlocking concerns: economics, election, and ecumenism. The important concept of Naturzusammenhang, the "interconnected process of nature," is introduced here. A constructive proposal regarding Schleiermacher's concept of the afterlife is persuasively argued.
The third and fourth chapters, by Ed Waggoner and Anette Hagan (respectively), offer an account of Schleiermacher's doctrine of creation and preservation. Hagan's chapter was the most interesting of the two, which discussed divine causality and providence.
Chapter five, by Kevan Vander Schel, explores Schleiermacher social doctrine of sin. Thus, the conclusion is reached that the social evil of ecological devastation is a consequence of collective human sinfulness.
Terrence Tice concludes the book by reflecting on concrete actions that must take place to avoid planetary destruction. He writes:
To put the matter more directly: each of us can acknowledge that we are part of the problem, but each must also become part of the solution. We can easily take action right where we live, in our own households, every day.
So in the end, Schleiermacher and Sustainability is more than just an excellent study of Schleiermacher's theology—though it is certainly this. It is also a timely challenge. It seems as if we are confronted, almost daily, with the news that the world as we know it is on the brink of ecological catastrophe. Yet we are not here to despair in what might be but to join hands and work towards a better, more ecologically-conscious future.
Schleiermacher's communally and socially oriented theology is a fruitful resource for constructing an ecologically sustainable theology, an "ecotheology."
A theology of this sort is vital, especially when we reckon with the fact that 88 percent of conservative evangelicals are unconcerned about the ecological crisis, and only 28 percent believe human activity has caused climate change. 1 An ecotheology that stresses the interconnectivity of the world and its relation to God is, perhaps, precisely what the theological world needs right now to help save the planet from its ever-approaching devastation.
The one criticism I have with the book, however, is that it lacked any critique of capitalism—which is by far the leading cause of climate change today. 2 In fact, it seems as if the authors believe that capitalism only needs to be reformed, not removed, in order to avoid the effects of climate change. Connections may have been drawn, however, between Schleiermacher's community-centric thought and modern critiques of capitalism. For example, Schleiermacher believed that the Church must be free from any sort of hierarchy. How could this line of reasoning be used in the economic world in such a way that capitalist systems that place the rich over the poor, giving them unequal possibilities for success or even survival, could be critiqued? In its own pews, the American Church is complicit in economic inequality. (The rise of "celebrity pastors" and megachurches is only a symptom of this larger issue.) The abuse of the planet in the name of corporate profits should be critiqued fiercely and rejected as sin if we are going to undo the effects of climate change before it is too late. Perhaps these considerations fell outside the parameters of the book—or perhaps my own bias is on display here—but it seems like an unfortunate oversight in an otherwise excellent book.  
Click here to purchase Schleiermacher and Sustainability, ed. by Shelli M. Poe
My thanks to Westminster John Knox Press for a digital copy of this book for review. I was under no obligation to offer a positive review and have presented my honest reflections on the book.